Welcome To Safford Schools!

We are happy to have you at Safford Schools! Below is information to help make a smooth transition for your child into a new school.

Before registering at an elementary school, students in Grades K-6 need to contact Mrs. Gail Curtis at the District Office, 734 11th Street, to find out which school has the fewest students in their grade. A form will be given to the parent to take to the school. Registration takes place at the school site. The secretaries at the school assign the teacher according to the fewest number of students in the class. The secretaries also provide parents with information regarding lunches, buses, etc.

When enrolling, students new to the District must bring please bring the following documents with you.

• Original birth certificate (not hospital copy)
• Immunization record.

Additionally, proof of residency by the parent(s) or guardian(s) must be provided in the form of one (1) of the following documents, which bear the parent or legal guardian's full name and residential address or physical description of the property where the student resides (no P.O. boxes):
• Valid Arizona driver's license, Arizona identification card
• Valid Arizona motor vehicle registration
• Valid United States passport
• Property deed
• Mortgage documents
• Property tax bill
• Rental agreement or lease (including Section 8 agreement)
• Utility bill (water, electric, gas, cable, phone)
• Bank or credit card statement
• W-2 wage statement
• Payroll stub
• Certificate of tribal enrollment or other identification issued by a recognized Indian tribe
• Other documentation from a state, tribal, or federal agency (Social Security Administration,
Veterans' Administration, Arizona Department of Economic Security, etc.)

A form will be provided for the parent to sign, requesting records from the previous District.

Three and four-year-olds with special needs may request screening for preschool. For more information please call Mrs. Kristen Walker at 928-348-7045.

The daily schedule for each school is as follows:

Dorothy Stinson School starts at 8:00 a.m. and ends at 2:00 p.m.

Lafe Nelson School starts at 8:15 a.m. and ends at 2:15 p.m.

Ruth Powell School starts at 8:10 a.m. and ends at 2:10 p.m.

Safford Middle School starts at 7:40 a.m. and ends at 2:58 p.m.

Safford High School starts at 7:30 a.m. and ends at 3:14 p.m.

Mt. Graham High School starts at 8:00 a.m. and ends at 3:00 p.m.

Students in Grades 7-8 will register for school at the Safford Middle School office at 612 11th Street. Please Safford Middle School web page for registration information.

New High School students, Grades 9-12, need to meet with a counselor before enrolling at Safford High School. The principal at our alternative high school, Mt. Graham High School, meets with students prior to enrolling. Please see Safford High School and Mt. Graham High School web pages for registration information.

Students residing outside District boundaries, wishing to attend Safford Schools, must submit an open enrollment application. Applications are available at the District Office or at this website in the section titled "Enrolling Students Information." If you have any questions, please call Mrs. Curtis at (928) 348-7007.

---
---
Exercise Your Right to Vote!

Just a reminder that today is the election for the Safford Unified School District M & O Override. We encourage you to exercise your right to vote. Polls are open from 7:00 am to 7:00pm.

There are two places to vote:
The County Fairgrounds at the AG Center and at the Catholic Church St. Rose of Lima
---
---
Children and Youth Website Launch

The Graham County Health Department would like to introduce you to the new website for parents, youth, caregivers, grandparents, teachers, administrators, counselors, healthcare professionals and everyone who comes in contact with "Children and Youth with Special Health Care Needs". This website is very comprehensive and contains resources for everyone to access. After reviewing the site, there is a questionnaire at the bottom that you can make comments on. We will leave this questionnaire up for a few weeks. Please feel free to comment.

The Arizona Department of Health Services uses the Maternal and Child Health Bureau's definition of Children with Special Health Care Needs as:

"Children up to age 21, who have or are at risk for a chronic physical, developmental, behavioral, emotional or potentially disabling condition and who also require health and related services of a type or amount beyond that required by children generally."

Please access the website with the link below or through the Graham County Website.

This website was created and made available from funding provided by State of Arizona Department of Health Services, Healthy People, Healthy Communities, Health in Arizona Policy Initiative.

Laura Rogers
Health Programs Coordinator, Health in Arizona Policy Initiative (HAPI)
Graham County Health Department
820 West Main Street, Safford, AZ 85546
Office: 928-792-5368
FAX: 928-428-8869
LRogers@graham.az.gov

Click here to be redirected to the link mentioned above.
---
---
Consider Teaching for SUSD

Safford Unified School District provides the following for teachers new to the district:

Sign-on bonus
Mentor teacher for a full year
Induction program
Competitive salary
Teacher Incentive Program
Medical benefits
301 Pay-for-Performance
Collaborative colleagues

Please consider making SUSD your professional home. Use the link to apply online.

Click here to be redirected to the link mentioned above.
---
---
2015-2016 School Calendar

The 2015-16 School Calendar was approved by the Governing Board at the February Board Meeting on Thursday, February 12th and is available under "Downloads" on our website.

We would like to extend appreciation to those serving on the Calendar Committee.

School events can be viewed on each school's website by clicking on the calendar button once you navigate to each school's website. You can also subscribe to any of the calendars from the calendar page.
---
---
Crisis Response Team Available

Click here to be redirected to the Safford Schools Crisis Response Team Site.
---
---
Keep in Shape with our 100 Miles Program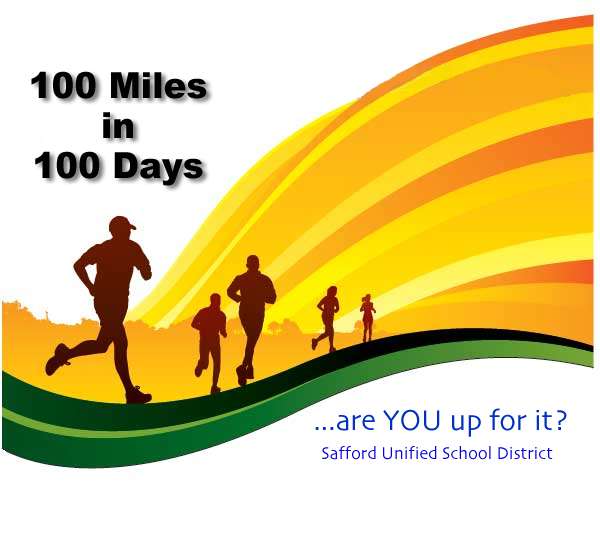 Trying to get in better shape? Stay motivated by recording your mileage in our 100 Miles Progam.

Self-Reporting program based on integrity.
Open to SUSD employees, family, and friends.
Self-Reporting walking database for you to record your daily progress.
You do not have to walk every day or any minimum amount per day.
Record your progress in miles or steps.
Report a daily total for each day you walk.


Record on our WEBSITE! You can enter multiple days, see all of your entries, and view your progress.

www.100Milesin100Days.me

Map My Run is a great FREE website with a mobile app to help track your daily progress as you walk if you have a smartphone.

Sponsored by SUSD Wellness Program
Questions? Contact Susan Lindsey at slindsey@saffordusd.com or 928-965-3222.
---